In just one day, you can change the trajectory of your life & business, and elevate your influence, impact & revenue exponentially.
What would your business look like if you could effortlessly stand out in your industry with confidence, while:
✓ Connecting with your dream audience on a deeper level?
✓ Making the huge impact in this world you know you were meant to create?
✓ Positioning yourself as an iconic leader in your industry?
✓ Collaborating with successful brands & businesses that share the same core values as you do?
✓ Gaining publicity and recognition for your expertise and the great work you do?
✓ Increasing your influence, network, platform, and revenue exponentially?
You don't have to imagine it anymore!
Having a captivating narrative matters, and now, you can make this and so much more a reality for your personal brand & business.
Here's the thing though, you've got to take fast, focused and fierce action if you want to experience real results!
But, there's one problem that stands in most entrepreneurs, business owners and founders way - Many of them are not trained storytellers.
I believe every business owner should feel empowered to promote and market their brand with confidence, and be equipped with the tools to get it done!
It doesn't matter how great you are at what you do, how amazing or beneficial your products or services are - if no one knows you exist, and you give them no real opportunity to connect with who you are authentically, you will be outshined by your colleagues over and over.
Being visible with a gorgeously designed brand and social media graphics isn't enough – You've got to tell your story if you're ever going to bridge the gap between where you currently are, and where you truly desire to be, but it's going to take a combination of strategic marketing & well-thought our branding to position you as the leader you truly are, and showcase your genius.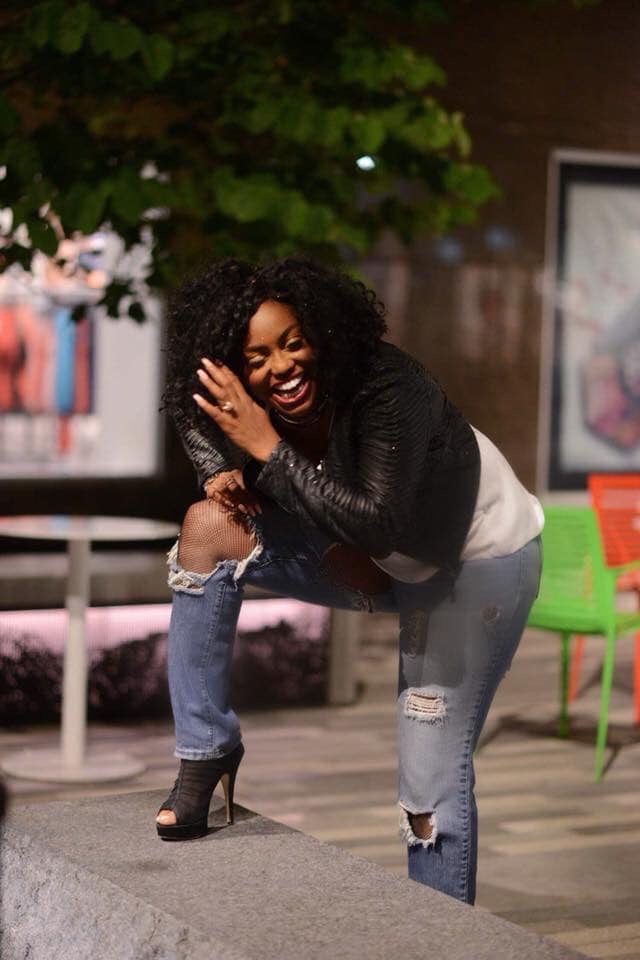 You know that there's more you want to experience in life; not working 80+ hours a week with little to NO time for any of the other things you enjoy doing like spending time with your family and loved ones, vacationing to your dream destinations, living a stress-free life, and enjoying all of life's pleasantries on your terms.
But, you're unclear on the path to take in your business to get you the results you desire, professionally and personally.
The answer is much more simple than you think - You need to get clear on your Brand Story!
That's where I come in!
You + Me + Your Story = ELEVATION!
Take that formula coupled with my highly regarded, proven brand storytelling, marketing strategies & tools that I only share with my high-level clients, as a vehicle to help guide you there, and you have a recipe for iconic brand success.
ELLEvate ME NOW!™ SignaTURE BRAND STORY VIP IMPACT DAY!
YOUR STORY IS A POWERFUL GIFT TO THE WORLD
What is this BRAND STORY VIP IMPACT Day?
The ELLEvate ME NOW!™ Signature Brand Story VIP day is more than a full day of strategy session. It's a high-impact personalized creative consulting experience with K. Elle Jones, #1 Amazon Best Selling Author & Founder of ELLEvate NOW Creative Media! ™, a subsidiary of ELLEvate NOW!™, where she serves as a sought-after Personal Brand Strategist, Creative Director & Producer and Filmmaker.
During this one-on-one creative consulting time with K. Elle, you will work together to do a deep dive into the foundation of your story and craft your unique brand message, tailored to your vision, mission, and goals, in a way that'll captivate your dream audience, clients, brand partners and media in a magnetic way; all while equipping you with the strategy to create compelling content, products & services that elevates your reach, impact, influence & profitability.
WHO IS THIS LUXE EXPERIENCE FOR?
Established, Forward-Thinking Women:
Entrepreneurs

Small Business Owners

Start-Ups and Female Founders

Coaches, Consultants, and Agency Owners

Real Estate Agents

Creatives

CEOs

Beauty Brands

Health Practitioners
You are ready to:
✓ Leverage the power of your story, genius and expertise to realize your full potential and see your brilliant ideas come to life.
✓ Develop a strong, profitable brand identity and strategy that wows the marketplace in a real, authentic and impactful way.
✓ Elevate your brand, platform and profitability at an accelerated pace.
✓ Work in a powerfully collaborative and supportive way with an experienced mentor as your guide.
But, you struggle to:
✓ Share your brand message in a clear, concise and relatable way.
✓ Make a real connection with your audience.
✓ Create content around your brand that makes you stand out and engages your audience.
WHY DO I NEED TO BOOK THIS VIP DAY?
Having a strong brand is no longer a pleasantry, it's a MUST have, and whether you're showing up online or off, it's important to build your brand on a solid foundation - STORYTELLING!
It's time for you to have a clear strategy and plan of action to create stories that move your brand & business forward, and boost your earning potential while making a real impact.
Your story has the power to catapult you into expertise status, and can change your entire personal brand and business for the better.
It's the very thing that makes you unique and stand out - it's your path to lasting profitability, but just throwing a bunch of childhood or college days stories isn't going to cut it friend… NOPE!
With the ELLEvate Me NOW™ Signature Brand Story VIP Impact Day, you'll be able to put down the hopeful marketing tactics, and tell your story in the most powerful, compelling way, and learn how to craft your brand message that resonates with your ideal dream audience; converting them into loyal clients, brand partners and ambassadors.
Yes, YOU have a story to tell, and now is the time to start telling it in a way that generates massive opportunities and profits for your business.
It serves as the catalyst for your brand and business' true success.
"Marketing is no longer about the stuff you make. It's about the stories you tell." ~ Seth Godin, Best-Selling Author & Marketing Expert
Storytelling is the golden child of marketing!
Some of the biggest, most profitable brands today are effectively leveraging the power of storytelling. So, what does that tell you?
If you want to elevate your personal brand & business, then it's time for you to get strategic, unleash the power in your story, and craft your compelling brand message.
A great story, properly told, is the foundation for an iconic powerhouse brand, and now's the time for you to experience exactly what that's like, so you can truly live out your calling and dreams with purpose!
Here's the great news for you… You don't have to do it alone!
Hi, my name is K. Elle Jones, CEO of ELLEvate NOW Creative Media, where my team of creative partners and I work with established business owners, entrepreneurs, real estate professionals, creatives, CEOs and beauty brands ready to scale their brands leveraging the power of storytelling and video.
Using my 20+ years experience in branding, marketing & advertising, and the entertainment industry, we'll work together to get crystal clear on your story, messaging & brand identity to elevate your personal brand, influence, impact and revenue.
Here's what you can expect before your VIP Day:
✓ We will meet for a 60-minute videoconference pre-planning session to discuss your brand & business goals, along with your unique skills and desired outcomes.
✓ Specific details for your 1:1 Full-day VIP session with K. Elle (6-8 hours) at an exclusive, luxe, private location in Southern California. Details will be released after your application has been approved and payment received.
After your VIP Day is complete, you can also expect:
✓ To have a solid plan of action with the necessary tools to share your brand story across a variety of mediums
✓ One 60-minute post follow-up video session
✓ Unlimited email access & support for 30-days after your high-impact VIP day to assess your progress and provide accountability
From our time working one-on-one together, you will:
Uncover and demolish those pesky limiting beliefs and patterns that have been holding you back from showing up in the spotlight, authentically and confidently

Gain clarity on who you are, what you do, why you do it and why it's important, identify and fill in the gaps so you're equipped to connect with your dream audience, community and brand, and become unstoppable

Identify what makes your business UNIQUE and how to position it

Uncover and unleash the power in your story and become completely irresistible to your dream clients, customers and partners

Develop a world-class brand story that converts

Craft your unique compelling brand message

Define a clear brand strategy that elevates your unique positioning in the marketplace. This will become your guide over the next 90 days and beyond

Identify who your REAL target audience is and what they need from you NOW

Develop your visual branding content strategy to share across your online platforms

Unlock your personal brand style and use it to seamlessly communicate your brand message visually through brand photography and branded video content

Learn how to STAND OUT from your competitors with authenticity leveraging creative brand marketing; even if no one has heard of you before and your market is saturated

Build your Story-Selling confidence so you can sell with ease and grace

Receive a custom PDF Storytelling Playbook

+Some sweet surprises just for you!!!
My one-day intensives are tailored specifically to you, your brand, story, message and vision, and as your expert mentor & guide, I will lead you to the ultimate discovery and tools to transform your brand, business & life!
ABOUT K. ELLE JONES
K. Elle Jones (affectionately known as Elle), a #1 Best Selling Author, personal brand strategist, creative director, producer, and filmmaker with professional experience in branding, marketing & advertising across multiple industries; has built a successful career as a sought-after storyteller.
For more than 25+ years, she has heavily relied on her natural ability to not only tell captivating stories, but creatively & innovatively attract new audiences to every project she touches; whether a new stage play, film production, or new product launch as a creative professional for brands and companies like Limited Brands, Victoria's Secret, and Gerbig, Snell & Weisheimer; where she oversaw many lifestyle, beauty, fashion and pharmaceutical brand accounts.
Elle is an award-winning writer, entrepreneur & philanthropist and is the CEO & Founder of ELLEvate NOW!™ Creative Media, a subsidiary of ELLEvate NOW! ™, LLC., where she mentors and creatively consults women business owners, entrepreneurs, female founders and thought-leaders to stop hiding behind their business, own their voice, and leap into the spotlight like the leading ladies they truly are, harnessing the power of storytelling, film and video marketing.
As a former TV personality, Producer of The Beauty Behind The Brand™ social initiative & documentary, and founder of No More Hidden Figures, an elite on-camera confidence & brand storytelling Mastermind Retreat, she helps women unleash the power in their stories and leverage those stories and video to elevate their influence, impact and revenue with confidence & style.
If you're ready to make an impact and increase your profits while remaining authentic to your story and vision, then this exclusive VIP Day experience is for you!
This opportunity is for business owners who are committed to taking action and fastback their results.
The investment for this 1:1 high-level transformational EXPERIENCE is $10,000
*Airfare and lodging accommodation costs are not included in the investment listed above.
Are You Ready To Tell Your Story & Elevate Your Brand?
Click below to FILL OUT THE APPLICATION FORM below, NOW!
✓ This will allow me an opportunity to get to know more about you and what you do, and decide if we're a great fit.
✓ Next, if your application is approved, we will have a brief interview call, and make a final decision.
✓ We finalize the confidential details and schedule your impactful, high-level experience.
*LIMITED SPACE AVAILABLE
Have a few questions?
Send an email to: hello@ellevatenow.com